About Us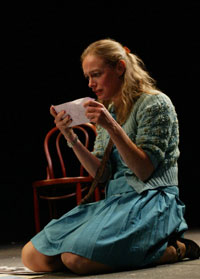 Mission
The mission of PlayGround-LA is to support the development of new local voices for the theatre. PlayGround-LA is L.A.'s leading playwright incubator, providing unique opportunities for the cultivation and development of early-career local playwrights and partnerships with leading professional directors, actors and theatres. Through the development of original short and full-length plays, PlayGround creates a microcosm of the greater theatre scene, supporting emerging playwrights' experimentation and risk-taking, while helping them to hone their style and technique.
History
PlayGround-LA is the first regional expansion of the celebrated Bay Area playwright incubator and theatre community hub, PlayGround(SF). PlayGround was launched in San Francisco in 1994 by co-founders Jim Kleinmann, Brighde Mullins and Denise Shama. In 1996, Kleinmann became PlayGround's first Artistic Director. PlayGround-LA was launched in 2012.
Since its founding, PlayGround has developed and staged over 850 original ten-minute plays by 220 Bay Area and Los Angeles early-career writers and has commissioned/developed 75 full-length plays by distinguished PlayGround alumni. In the process of staging those works, PlayGround has helped to identify some of the leading emerging writers and, at the same time, has engendered the creation of a true community of theatre artists, bringing together hundreds of local actors, directors and playwrights. For most if not all of the participating writers, PlayGround is the first professional staging their work has received and serves as their introduction into the professional theatre community.
PlayGround's alumni have gone on to win local, national and international honors for their short and full-length work, including recognition at the Humana Festival, Sundance Festival, O'Neill National Playwrights Conference, Bay Area Playwrights Festival, New York International Fringe Festival, and Aurora Theatre Company's Global Age Project, among others. Directors and actors participating in PlayGround are among some of the most distinguished theatre professionals, regularly working on leading local stages.