December People's Choice Award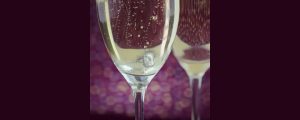 The people  have spoken… The December People's Choice Award goes to Nicki Spencer for her short play, Merry Christmas, Ruth, presented as a staged reading at Monday Night PlayGround on December 11 at the Zephyr Theatre. Congratulations, Nicki!
Courtesy of Ms. Spencer, we're pleased to share the first two pages from the award-winning script. Enjoy!
MERRY CHRISTMAS, RUTH
by
Nicki Spencer
CAST BREAKDOWN
NANCY – Female – 30s – Any Race – Earnest, kind, in love with Carlton.
CARLTON – Male – 30s – Any Race – Thought he had everything planned out perfectly.
RUTH – Female – 60+ – Any Race – Cagier than she looks.
LIGHTS UP. A table rests at center with two plates and two flutes of Champagne. CARLTON finishes setting up the table. It's perfect. Now, for the finishing touch: he pulls a ring box from his pocket, opens it, and pulls out a glistening ENGAGEMENT RING. He drops the ring in one of the Champagne flutes. NOTE: There is also a small table set at DR which is to indicate the kitchen area. An incessant and annoying KNOCK at the door.
CARLTON
Okay, okay, I'm coming!
Carlton opens the door. NANCY enters shivering. RUTH trails her.
NANCY
Sorry, it's freezing out there and I forgot my coat. Hi, honey. Come on in Ruth!
CARLTON
Hi… Ruth?
NANCY
Carlton, this is Ruth, she'll be joining us for Christmas dinner.
CARLTON
Oh.
RUTH
Is this your hubby?
NANCY
Uh not exactly, Ruth, this is my boyfriend, Carlton.
RUTH
So nice to meet you. Oh, such a strong, manly handshake.
NANCY
Go ahead and have a seat here, Ruth. I'll be right back.
NANCY sits RUTH down at the table at center.
CARLTON
Uh honey, can I talk to ya for a sec?
CARLTON pulls NANCY aside. During their side conversation. RUTH makes herself at home.
CARLTON
So… what's with Mrs. Clause?
NANCY
Well… when I was at the market I overheard her talking to the bag boy about how she was going to be all alone on Christmas eating a frozen Stouffer's Salisbury Steak meal and I just thought that was so… tragic.
Behind NANCY and CARLTON: RUTH sees the full flute of Champagne on the table and downs it. She sees the other flute, and downs that one too.
CARLTON
So, you brought her home for the holidays without giving me a heads up!
NANCY
It was a clutch decision! I knew you'd be mad—
CARLTON
Tonight was supposed to be just you and me. Our first Christmas just the two of us—
NANCY
But then I figured that since it's the holidays… and the season of giving… and the time for sharing and being nice to others…
CARLTON
Slightly sarcastic
Ugh, you just have to be a good person! I'll bet you're at the top of Santa's nice list.
NANCY
It's just a couple hours. Then you and I can have our own little Christmas just us two I promise… Maybe I'll even show you some moves that would put me on the naughty list…
She gets in close. He likes it. RUTH interrupts the moment.
RUTH
I hope I'm not an intrusion. I really don't want to impose, I can just go back home and watch Miracle on 34th Street all alone like last year.
RUTH and NANCY look to CARLTON.
CARLTON
No, Ruth. Please. It's our pleasure to have you join us. Now, let's get you something to drink. What can I get ya?
RUTH
Some more Champagne would be lovely. Thanks, doll.
———-
Join us for the next Monday Night PlayGround on Monday, January 8, at the Zephyr Theatre and choose your own favorite. Click here for more info.