PlayGround-LA Company in the News-April 2018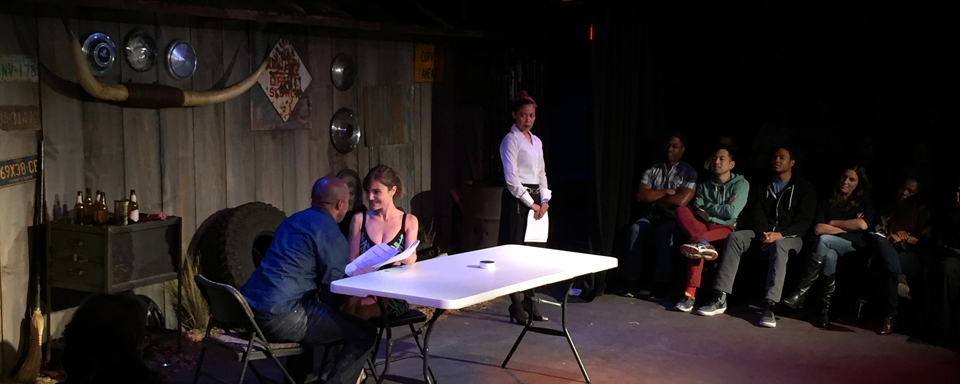 See what PlayGround-LA Writers and Alumni are up to as we prepare for the May 14 Best of PlayGround-LA Gala!
Nayna Agrawal's  play, DHARMA, is a semi-finalist with Play-Makers, a Spokane, WA-based theater. Her  play, SLUT, will be performed with the Hunger & Thirst Theatre on April 9th in Manhattan. Tickets can be purchased online! Her script, LIKE "BANDANA" WITH A "V" has been selected as part of the New Normal Series, performing Tuesday, March 27th at 8 p.m. at The Next Door Lounge. Tickets available online.
Mildred Lewis wrote and directed a one minute movie comedy, CAN ALSO PLAY that screened at the 2018 Outfest Fusion.
Susan C. Hunter recently traveled to Mesa, Arizona as a guest of the East Valley Children's Theatre to view her award-winning play BEAUTY AND THE COMPUTER GEEK, written with collaborator Tom Shelton.
Rhea MacCallum is thrilled to be joining fellow Playground-LA writer Vincent Terrell Durham in Skylight Theatre's '18 PlayLab.  Her play EXCEEDING THE PURCHASABLE CALORIES was named a winner in Rover Dramawerks' 10-Minute Comedy Contest and will run June 21-30, 2018 in Plano, TX
Vincent Terrell Durham will have a stage reading of his play THE FERTILE RIVER at the Skylight Theatre on April 14, 2018 at 2:00. The theatre is located at 1816 1/2 N. Vermont Ave., Los Angeles, CA 90027. The reading is free but donations are encouraged.
Jonathan Josephson's short marshmallow play CHUBBY BUNNY recently made it's international debut at Edgren High School at Misawa Air Base, Japan, and received it's eight overall production at Heritage Middle School in Meridian, ID. For details, please contact YouthPLAYS.
Diana Burbano play ENEMY|FLINT is premiering at Rio Hondo college April 26th-29th.
Andrew Joseph Perez will be joining A Noise Within, remounting their hit production of MAN OF LA MANCHA in August and September.
Allie Costa has joined the cast of HAMILTON'S CATS, a hilarious mash-up of Broadway's beloved shows. See the world premiere at The Montalban Theatre in Hollywood on April 21st! Learn more about the all-star show + benefit: http://www.alliecosta.com