PlayGround-LA Company in the News Jan-2019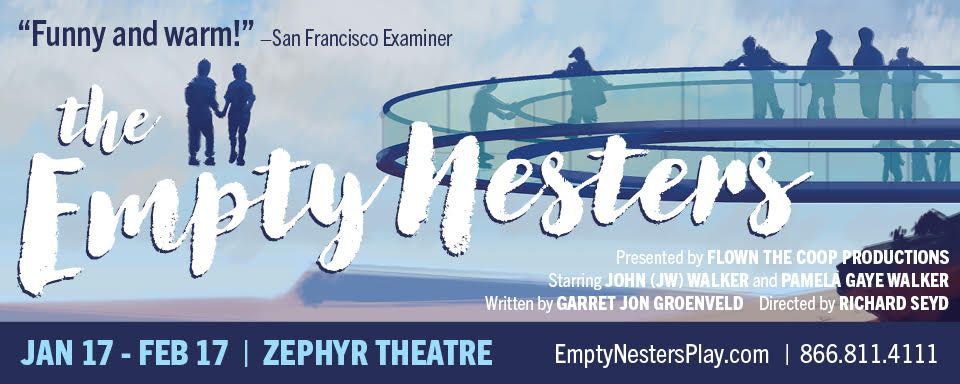 See what PlayGround-LA and PlayGround Writers and Alumni are up to as we prepare for the January 14th Monday Night PlayGround!
Founding PlayGround writer Garret Jon Groenveld has his Los Angeles premiere with THE EMPTY NESTERS which had it's workshop premiere at the PlayGround Festival in 2015. The hit show will open in Los Angeles in January, running from January 17 through February 17 at the Zephyr Theatre (7456 Melrose Ave.) Show will star JW and Pamela Gaye Walker and directed by Bay Area and Los Angeles favorite Richard Seyd.
This January Liz Anderson begins a yearlong filmmaker residency with the San Francisco Film Society FilmHouse to complete her screenplay and begin production, directing her first feature film, CORDYCEPS.
Michael Barrett Austin just spent the week workshopping a new version of 'As You Like It' with original music by the Kilbanes and Phil Wong, coming to SF Shakes in summer 2019
Julia Brothers will be performing the role of God in the Kilbane's rock opera WEIGHTLESS at The Public Theatre's Under The Radar Festival, Jan 3rd – Jan 13th in NYC.
Diana Burbano will be heading to Childsplay in AZ to Dramaturge a new Theatre Young Audiences play.
Rachel Bublitz is thrilled to announce another 2019 production of her full-length play, RIPPED! The second production will be a regional premiere with Good Company Theatre in Ogden, Utah in September of 2019.
Ron Campbell is finishing up his gig at the Lone Star Circus in Texas as Ringleader/Funslinger Philippe Pathetique in CIRQUE JOYEUX. Next up, he will be performing HOW TO FAIL as part of the Playground Solo Fest.
Allie Costa is currently filming a musical comedy series. Her play TWO GIRLS will be staged in New Jersey in January. http://www.alliecosta.com http://imdb.me/alliecosta
Elizabeth Flanagan's short play, FRODO LIVES will be performed January 4th through February 3rd at the Santa Cruz Actors Theatre as part of the 8Tens@8 Int'l Play Festival. On January 13, in San Francisco her full length play, METH, will have a stage reading as part of 3Girls Theatre Salon Series.
Sarah Gasser will be stage managing the Second Annual PlayGround Solo Performance Festival, which runs from January 24 through February 10 at Potrero Stage.
In January Douglas B. Giorgis will be modeling for a new series of paintings called 'And They Did Not All Fit Into The Screen' by San Francisco artist Eugene Rodriguez
Daryl Anthony Harper recently workshoped the co-lead role of Joe for the upcoming production of JAZZ at Marin Theatre Company, adapted by Nambi E. Kelley, based on the book by Toni Morrison, directed by Awoye Timpo, and music by Marcus Shelby. Such a blessing to be in the room with such talented minds, hearts and spirits!
ELAYNE HEILVEIL will be featured in the new 'Best Ten Minute Plays 2019' Anthology (Smith and Kraus) as a first prize winner as well as 'Best Women's Stage Monologues, 2019'. She also has pieces in the just released 2018 Anthologies of both Best Ten Minute Plays and Best Women's Monologues. Also her short play TILL DEATH DUE US PART will be produced by Theatre Neo at the Lounge Theatre in Hollywood as part of their Airport Plays running three weekends in February.
Howard Ho is the sound designer for upcoming shows East West Players' MAN OF GOD and the JACCC's TALES OF CLAMOR, for which he also composed original music. Both shows will be running through the month of February.
George Maguire produced an original SAG screenplay by Adam Ambriz called THE ANNOUNCEMENT. Co produced with Nancy Madden.
Two of Jonathan Josephson's short plays will be included as 2nd Place Winners in Smith and Kraus' collection The Best 10 Minute Plays of 2019 – one of those two, The Tale of Dakota Dawson debuted with Playground-LA last season! On Jan 2, the Hercules Radio Players in New Orleans will perform Jonathan's 1960s Broadway send-up Tacoma, Trains, and Toothpaste live on air: Wednesday, January 2, 2019 WAMF 90.3 FM (wamf.org). Lastly, on January 13 at 7pm, Dark Delicacies in Burbank, CA will host a book signing/playwrights reading event featuring the five playwrights of Wicked Lit Volumes I and II as well as Josephson's The Legend(s) of Sleepy Hollow. Details at jonathanjosephson.com.
Scott Mullen's short play HOW BRENDA LANG INVENTED TIME TRAVEL WITH A MOLDY PIECE OF CHEESE, which was performed at Playground-LA's Tall Tales show last February, will get its first full staging as part of Madlab Roulette in Columbus, Ohio in May.
Lana Palmer directs Rajiv Joseph's THE NORTH POOL, opening January 11 at Potrero Stage, and a staged reading of Will Eno's MIDDLETOWN, presented by Actors Ensemble of Berkeley on January 21st. Upcoming projects include music and sound design for Kansas City Repertory Theatre's SCHOOLGIRLS, OR THE AFRICAN MEAN GIRLS PLAY, opening March 1.
Joseph Patrick O'Malley will be appearing in CREDITORS at Aurora Theatre Company, Opening Jan. 25th.
Katja Rivera is directing HONKY at Role Players Ensemble, opening 2/1.
Marsha Roberts' play "Bingo," received honorable mention for SHOWOFF! 2019 at the Camino Real Playhouse in San Juan Capistrano and will be performed on January 13th.
The ten-minute version of Diane Sampson's THE TALE OF SLEEPING CUTIE, originally written for a Monday Night PlayGround and later expanded into a full-length musical co-produced by PlayGround, will receive a staged reading on New Year's Eve in Rockport MA and again on Jan.12 in Gloucester. It's one of eight short plays chosen for Rockport's Annual New Year's Eve festivities.
Robert Sicular plays the villainous Julian in COMMUNICATING DOORS at Center REP in Walnut Creek, opening January 25 and playing through February 23. Tickets and info at centerrep.org
Jonathan Spector's play, EUREKA DAY, will be featured in Roundabout Theatre Company's eighth annual Roundabout Underground Reading Series, directed by Adrienne Campbell-Holt, On January 28 at 5 PM
Emilie Talbot will be workshopping Carey Perloff's THE FIT at SF Playhouse in January, with a public reading on January 21. After that she heads to Santa Cruz for the Jewel Theatre's production of BREAKING THE CODE in March.
Maury Zeff's full-length play NOT SO FAMOUS SEAMUS, a 2017 PlayGround Fellowship commission, received a reading at Central Works in November.