PlayGround-LA Company in the News June-2018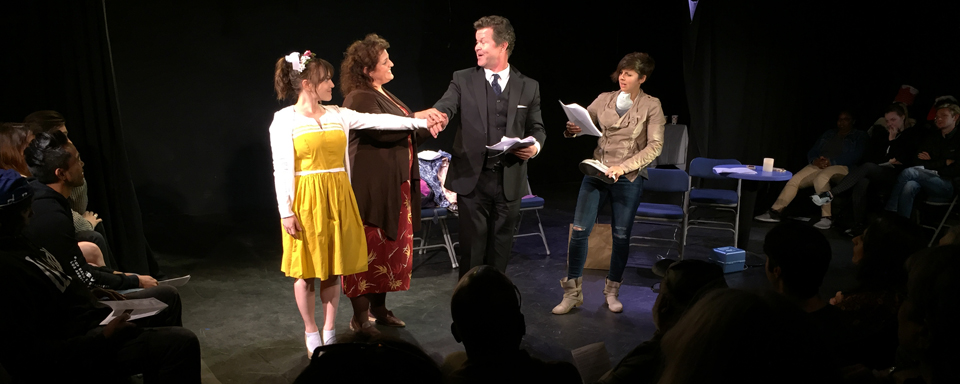 See what PlayGround-LA Writers and Alumni are up to!
Diana Burbano's punk rock play FABULOUS MONSTERS will be seen at the Keegan Theatre in Washington DC on June 18th. Her commissioned play ABANDONED will open at Creede Repertory Theatre on July 12th.
Mildred Lewis's short comedy CAST ME! was at the Breath of Fire Latina Theatre Ensemble's One Act Festival in Santa Ana on May 26.
Christopher Belen Aguilar's play STAND: A PLAY TO HELP BREAK THE STIGMA OF MENTAL ILLNESS had two full performances in May in honor of mental health awareness month.
Matt DeNoto was invited to direct a short film on the Warner Bros. studio lot as part of the AT&T Shape Create-a-thon.
Jonathan Wickremasinghe-Kuhn will appear on the "Catharsis" episode of the Two Truths & A Lie podcast, which will be released in June."
Andrew Joseph Perez will be appearing in EMMA FRANKENSTEIN as part of Hollywood Fringe before returning to A Noise Within in the remount of MAN OF LA MANCHA in August.
A staged reading of Jonathan Josephson short adaptation of A GHOST STORY recently closed out LitFest Pasadena 2018 at the Pasadena Playhouse and his play short play DAVE'S EPIC 40TH BIRTHDAY PARTY (Best of Playground-LA 2018) will be included in Panglossian's "Best of all Possible Podcasts" series. Jonathanjosephson.com
Allie Costa booked roles in two thriller/horror films, one of which wrapped in June, with the other filming next month. Her acclaimed play TWO GIRLS Is currently running at the inspiraTO Theatre Festival in Toronto. Four of her super-short pieces were featured in the Gi60 (Gone in Sixty Seconds) festival in New York. For more details: http://www.alliecosta.com  http://www.imdb.me/alliecosta
Mark Sherstinsky's  10-minute play THE VALLEY (originally written for Monday Night PlayGround) was chosen for the Inner Voices Social Theatre National Call for Scripts 2018 (University of Illinois at Urbana-Champaign).  More information here.