PlayGround-LA Company in the News Mar-2018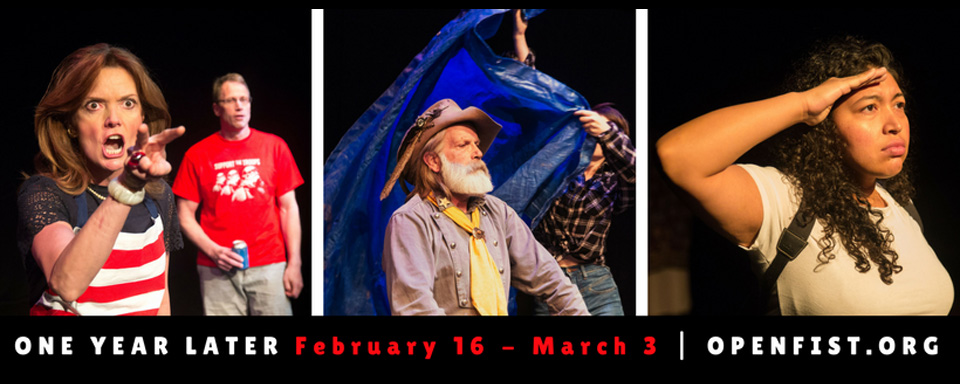 See what PlayGround-LA Writers and Alumni are up to as we prepare for the March 12 round of Monday Night PlayGround.
Open Fist Theatre's One Year Later — A Political Pop-Up of the Theatrical Kind features BOXES and FAKE by Jen Huszcza and DREAMING  Diana Burbano in an evening of 14 short plays by writers from across the United States who explore our nation's current social and political climate and how the past year under President You-Know-Who has affected us. openfist.org.
Allie Costa's critically-acclaimed piece TWO GIRLS was selected for She Speaks: #MeToo and will be performed March 1st in Paris and March 3rd and March 4th in Ontario. WHO SHE COULD HAVE BEEN will have its West Coast premiere March 8th-11th at the Fantastic.Z Festival in Seattle. LITTLE SWAN, A PAS DE DEUX (which was named Best of PlayGround-LA) will be produced in March 9th-11th in Hollywood at the Hudson Theatre as part of INK Fest. BEST ACTRESS 1962, an imagined conversation between Audrey Hepburn and Natalie Wood, will have its world premiere March 22nd-31st at the 365 Women a Year Festival, produced by Rover Dramawerks in Texas. For more info and tickets to any of these events, please visit http://www.alliecosta.com
Diana Burbano's  play POLICARPA is a semi-finalist for the 2018 Eugene O'Neill Playwrights Conference.  FANCY, which was written for Playground-LA was performed Utopia/Dystopia, a collection of thirteen plays presented by Brave New Word in London.
On March 5, Jonathan Josephson's short marshmallow play CHUBBY BUNNY will receive its international debut at a high school in Japan! The play is licensed by YouthPLAYS https://www.youthplays.com/play/chubby-bunny-by-jonathan-josephson-katy-muzikar-412>>
Scott Mullen's short play 172 PUSH-UPS, written for Playground-LA, has been selected to be part of Queer Shorts 2.2 in Madison, Wisconsin in  June.
John Corcoran Jr. has a new novel,Doing Julia about the mad, crazed fun world of movie junkets available on Amazon.
Jonathan Wickremasinghe-Kuhn told stories at two Moth StorySLAMs in February, on the themes "Transit" and "Secrets".
Andrew Joseph Perez is currently playing Malcolm in and choreographing the fights for MACBETH at Sacramento Theatre Company through the end of March. Info at www.andrewjperez.com.