PlayGround-LA Company in the News September-2018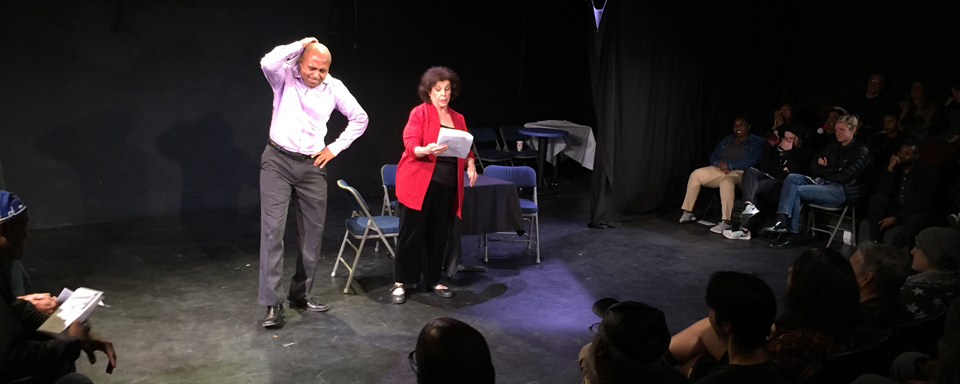 See what PlayGround-LA Writers and Alumni are up to as we prepare for Season 7 (2018-19) of Monday Night PlayGround-LA!
Diana Burbano is excited to be part of Oregon Shakespeare Festival's Latinx Brown Swan cohort. She currently working on Señor Plummer's Final Fiesta with Rouge Artists Ensemble, and her play Policarpa will be featured in the Living Room series at the Blank.   
Allie Costa recently booked and filmed a dramatic movie. She also recorded a number of tracks for ANGELS OF SOUTHERN ACCENTS, a new musical about the life of Margaret Mitchell, the author of Gone with the Wind. Allie plays Margaret Mitchell.  http://www.imdb.me/alliecosta
Lauren Gorski, as Co-Editor-in-Chief, is hard at work on the third annual play reading series for literary journal Exposition Review. On September 30th in Los Angeles, directors will bring to life plays and screenplays originally published in Exposition Review Vol III. Orbit. Tickets on sale soon, and submissions for Vol. IV will open September 15th for any writers that want to be considered for next year's issue.
Elayne Heilveil wrote and directed two short plays this summer for Theatre West's WEST FEST and another short, THE TANGO (developed from a Playground prompt) produced live and for radio in Sydney Australia, with an encore production next season.
Jonathan Josephson's adaptation of Charles Dickens' THE CHIMES: A GOBLIN STORY will be included as part of Unbound Productions' Wicked Lit: The Chimes and The Corpse. Fans of the macabre might want to keep an eye out for Wicked Lit: Volume II, due this October from Steele Spring Stage Rights; the collection will include three of Jonathan's plays – Anansi and the Demons, The New Catacomb (adapted from Sir Arthur Conan Doyle), and A Ghost Story (adapted from Mark Twain). Wicked Lit: Volume I is available at amazon.com.
Roger Mason  is one of the book writers for a new musical adaptation of SALOME.  They have a showing in October 2018 at New York Theatre Workshop.
David Meyers spent the summer performing in "An Act of God" at the Wellfleet Harbor Actors Theater, and had a film premiere on Lifetime. And a 10-minute play he initially wrote for Playground received its first production in New York at Nylon Fusion Theatre Company. He's happy to be back in LA!
Scott Mullen's short play 172 PUSH-UPS, which he wrote for Playground-LA, recently won the Audience Choice Award at the 2018 Oakville Players One-Act Festival in Oakville, Ontario and the Summer Audience Award at the 2018 East-West Playfest in Milford, Connecticut.  It will be performed at Short + Sweet Hollywood in September.
Andrew Joseph Perez wrote and directed an original play called "Estrella and the Bears" for the Mono Arts Council's Summer Kids' Theatre Camp at Mammoth Lakes Repertory Theatre, he's just opened "Man of La Mancha" at A Noise Within, walked the red carpet at the premiere of MEGALODON – a SyFy original film starring Michael Madsen, and will be at Renaissance Theaterworks in Milwaukee performing in Native Gardens in the Fall.
Madeline Puccioni reports that an assortment of "Madeline's" will be woven into Towne Street Theatre's new show, IN RESPONSE: THE YEAR OF THE WOMAN, which opens  September 20 at the gorgeous old Stella Adler in Hollywood.  Her #MAKE AMERICA GREAT AGAIN, TWIN STARS DANCING, and MY DATE WITH THE GOLEM OF PRAGUE are three of the plays A.D. Nancy Davis will include.   She'll be going down for a couple of performances, PlayGround LA! Let me know when I can buy you a glassa or a cuppa!
Jeffrey Fischer Smith's short film "Reservations" was an official selection in the inaugural Vagabond Film Festival in July in Milton Keynes, near London. As part of The Grief Dialogues, his short play A DOG DREAMS will be performed in Los Vegas, NV in September in remembrance of the October 1, 2017 mass shooting and in New York, NY in October as part of Reimagine NYC. More information about Jeffrey can be found here.  
Jonathan Wickremasinghe-Kuhn has just started a Master's of Education program at the University of Southern California and is writing a drama pilot with a friend.