PlayGround-LA Kicks Off Season 7!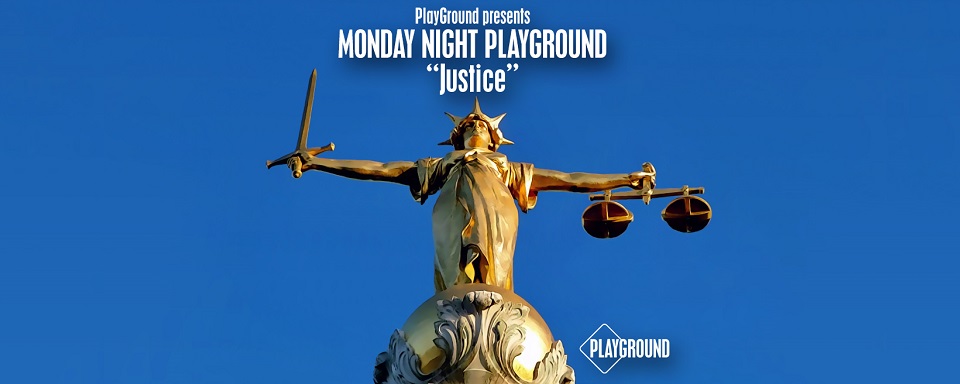 PlayGround-LA kicks off its 7th season on Monday, October 8, 8 PM at its new home, the Broadwater Mainstage (home of Sacred Fools Theatre Company) with an all-new season of the celebrated Monday Night PlayGround staged reading series. The topic for the first round, announced last Friday, is "JUSTICE".
"A man may see how this world goes with no eyes. Look with thine ears see how yond justice rails upon yon simple thief. Hark, in thine ear change places and, handy-dandy, which is the justice, which is the thief." – William Shakespeare
Added PlayGround-LA Artistic Director Jim Kleinmann: "As we struggle with the national conversation around justice and particularly how women, individuals of color, immigrants, the poor, and other marginalized communities are being served, we are committed to providing a platform for our artists to generate their own responses and sharing those through our Monday Night series." Members of the recently announced 2018-19 PlayGround-LA Writers Pool have just four-and-a-half days to generate their original ten-minute plays inspired by the topic. The top six scripts will each receive an hour-and-a-half rehearsal and a professional script-in-hand staged reading at the Broadwater Mainstage on October 18. PlayGround writers in the Bay Area are working simultaneously on the same prompt and their finalists will be presented at Berkeley Rep on October 15. Tickets are $15-$30 and 6-admission series subscriptions are just $90. For tickets or more information, visit http://playground-la.org/monday.
The playwrights of the 2018-19 PlayGround-LA Writers Pool are: Augusto Amador, Amanda Andrei, Marni Ayers, Diana Burbano, Kathleen Cecchin+, Allie Costa+, Jeffrey Fischer Smith, Siobhan Gilbert, Forrest Hartl+, Elayne Heilveil, Dan Hirsch, Howard Ho, Susan Hunter, Daniel Hurewitz, Uma Incrocci, Julianne Jigour+, Starina Johnson, Mark V Jones, Jonathan Josephson+, Chris Karmiol, Arthur Keng+, Mildred Lewis, Roger Mason, David Meyers, Scott Mullen, Nicholas Pappas+, Melissa Ritz, Brittny Roberts, Jessica June Rowe+, Richard Ruyle, Joe Samaniego, Mercedes Segesvary+, Mark Sherstinsky+, Nicki Spencer+, Jonathan Wickremasinghe-Kuhn, and Desiree York (+ Best of PlayGround Alumni).
Recent topics have included: "We Hold These Truths to be Self-Evident," "Artificial Intelligence," and "Probable Future or Possible Future" as part of a now-five-year collaboration with Planet Earth Arts and Stanford University. The top six plays from each month are rehearsed for just one-and-a-half hours each and presented as script-in-hand staged readings at Monday Night PlayGround, now celebrating its seventh year in Los Angeles and twenty-fifth in the Bay Area. Audience members can also experience the thrill of being a producer through the monthly People's Choice Awards, helping to determine which plays and playwrights go on for consideration in PlayGround's annual showcase, the Best of PlayGround Gala.
PlayGround-LA is the first regional expansion of the celebrated Bay Area playwright incubator and theatre community hub, PlayGround(SF). PlayGround was launched in San Francisco in 1994 by co-founders Jim Kleinmann, Brighde Mullins and Denise Shama. In 1996, Kleinmann became PlayGround's first Artistic Director. Since its founding, PlayGround has developed and staged over 850 original ten-minute plays by 250 Bay Area and Los Angeles early-career writers and has commissioned/developed more than 75 full-length plays. In the process of staging those works, PlayGround has helped to identify some of California's leading emerging writers and, at the same time, has engendered the creation of a true community of theatre artists, bringing together hundreds of local actors, directors and playwrights. Beginning with its 7th season (2018-19), PlayGround-LA has relocated its public programs to the Broadwater Mainstage, home of Sacred Fools Theatre Company. For more information, visit http://playground-la.org.