Will our Pool of Playwrights Fall Down and Get Up?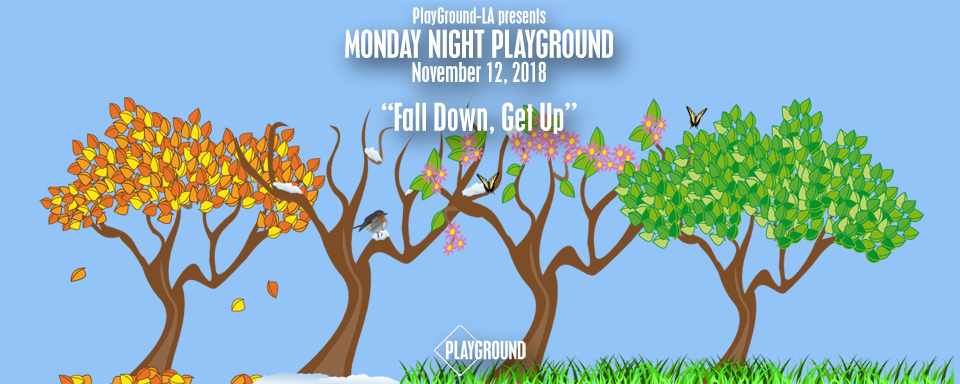 "Our greatest glory is not in never falling, but in rising every time we fall." – Confucius.
PlayGround-LA continues its 7th season of the celebrated Monday Night PlayGround staged reading series on Monday, November 12, 8 PM at its new home, the Broadwater Mainstage (home of Sacred Fools Theatre Company). The topic for the November round, announced this morning, is "FALL DOWN, GET UP".
Members of the 2018-19 PlayGround-LA Writers Pool have just four-and-a-half days to generate their original ten-minute plays inspired by the topic. The top six scripts will each receive an hour-and-a-half rehearsal and a professional script-in-hand staged reading at the Broadwater Mainstage on November 12.  For tickets or more information, visit http://playground-la.org/monday.
The playwrights of the 2018-19 PlayGround-LA Writers Pool are: Augusto Amador, Amanda Andrei, Marni Ayers, Diana Burbano, Kathleen Cecchin+, Allie Costa+, Jeffrey Fischer Smith, Siobhan Gilbert, Forrest Hartl+, Elayne Heilveil, Dan Hirsch, Howard Ho, Susan Hunter, Daniel Hurewitz, Uma Incrocci, Julianne Jigour+, Starina Johnson, Mark V Jones, Jonathan Josephson+, Chris Karmiol, Arthur Keng+, Mildred Lewis, Roger Mason, David Meyers, Scott Mullen, Nicholas Pappas+, Melissa Ritz, Brittny Roberts, Jessica June Rowe+, Richard Ruyle, Joe Samaniego, Mercedes Segesvary+, Mark Sherstinsky+, Nicki Spencer+, Jonathan Wickremasinghe-Kuhn, and Desiree York (+ Best of PlayGround Alumni).
Recent topics have included: "Justice," "We Hold These Truths to be Self-Evident," "Artificial Intelligence," and "Probable Future or Possible Future" as part of a now-five-year collaboration with Planet Earth Arts and Stanford University. The top six plays from each month are rehearsed for just one-and-a-half hours each and presented as script-in-hand staged readings at Monday Night PlayGround, now celebrating its seventh year in Los Angeles and twenty-fifth in the Bay Area. Audience members can also experience the thrill of being a producer through the monthly People's Choice Awards, helping to determine which plays and playwrights go on for consideration in PlayGround's annual showcase, the Best of PlayGround Gala.