Best of PlayGround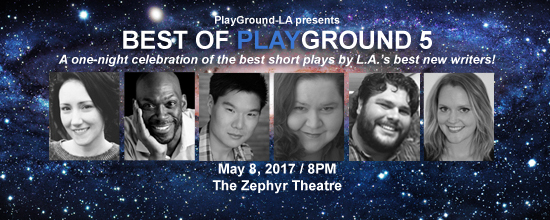 Help celebrate the best writers and short works from the PlayGround-LA fifth season! The Best of PlayGround Gala features a special presentation of six short plays originally developed through the Monday Night PlayGround staged reading series, followed by a no-host reception with the artists.
Exceeding the Purchasable Calories by Rhea MacCallum, directed by Jim Kleinmann
All or Nothing by Nicholas C. Pappas, directed by Lee Sankowich
Take Your Daughter to Work by Tiffany Cascio, directed by Frieda de Lackner
Shooting at the Universe by Vincent Terrell Durham, directed by Rondrell McCormick
Bluster Bound by Arthur Keng, directed by Paris McCarthy
Interesting Question, Collette by Nicki Spencer, directed by Jim Kleinmann
Featuring: Sarah Hoback, Danny Katz, Christopher Gary Lawson,
Krystal Mosley, Gary Poux, Carla Vega, Christina Wren
Tickets: $20 General Admission / $40 VIP ($20 tax-deductible donation; includes preferred seating and complimentary glass of wine). Proceeds from the Best of PlayGround Gala support PlayGround-LA's new play incubator programs, including Monday Night PlayGround.