PlayGround-LA Writers Predict the Future!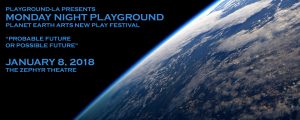 PlayGround returns on Monday, January 8, with our annual Planet Earth Arts New Play Festival collaboration. On December 21, the PlayGround-LA Writers Pool participated in a live stream topic prep session led by the Planet Earth Arts team.  Out of the prep session, grew the January topic: "Probable Future or Possible Future."  Writers had less than a week to look into their crystal balls to generate their original ten-minute plays inspired by the topic. Six scripts were chosen to receive an hour-and-a-half rehearsal and a professional script-in-hand staged reading at the Zephyr Theatre on January 8 at 8:00pm. Tickets are $15-$30 and 6-admission series subscriptions are just $75. For tickets or more information, visit http://playground-la.org/monday.
The January 8 selected plays/playwrights are THE BOLT OR THE FIDDLE by Matt Ackels, directed by Jim Kleinmann; THREE WOMEN IN A WILDFIRE by Julianne Jigour, directed by Jully Lee; ONE THRU THIRTY by Brittny Roberts, directed by Rondrell McCormick; STRAIGHT SHOT by Richard Ruyle, directed by Jesus Reyes; SOLUTION NUMBER SIX by Mercedes Segesvary, directed by Paris McCarthy; and FECUNDITY by Jonathan Wickremasinghe-Kuhn, directed by Carla Vega.
Audience members can experience the thrill of being a producer through the monthly People's Choice Awards, helping to determine which plays and playwrights go on for consideration in PlayGround-LA's annual showcase, the Best of PlayGround.  PlayGround writers in the Bay Area were given the same prompt and their finalists will be presented at Berkeley Repertory Theatre on January 15.
The playwrights of the 2017-18 PlayGround-LA Writers Pool are: Matt Ackels, Nayna Agrawal, Christopher Aguilar, Diana Burbano, Kathleen Cecchin*, Allie Costa*, Meagan Daine, Matt DeNoto, Vincent Terrell Durham*, Elayne Heilveil, Susan C. Hunter, Daniel Hurewitz, Jen Huszcza, Julianne Jigour*, Starina Johnson, Mark V. Jones, Jonathan Josephson, Arthur Keng*, Jonathan Kuhn, Mildred Inez Lewis, Dana Lyman, Rhea MacCallum*, David Meyers, Alison Minami, Scott Mullen, Rosie Narasaki, Nicholas C. Pappas*, Andrew Joseph Perez, Brittny Roberts, Jessica June Rowe*, Richard Ruyle, Joe Samaniego, Mercedes Segesvary*, Mark Sherstinsky*, Nicki Spencer*, and Jennie Webb* (* past Best of PlayGround finalist).
Planet Earth Arts is bringing together a community of artists from all disciplines in a bold new collaborative partnership with scientists, public policy leaders, universities and non-profit organizations.  Their mission is to create a body of work that fosters a strong commitment to a world where people thrive and nature flourishes.  Planet Earth Arts is dedicated to inspiring artists and audiences to claim planetary sustainability and social justice as the most critical issues of our time.