Season 7's Best of PlayGround-LA Gala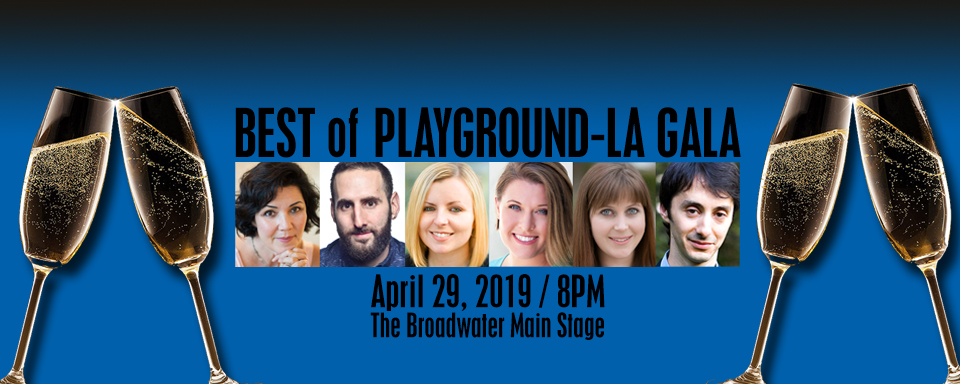 PlayGround-LA, Los Angeles's incubator for a new generation of playwrights, caps off its seventh season on Monday evening, April 29, at the Broadwater Main Stage with the Best of PlayGround-LA, a one-night gala celebration of the best playwrights and short plays selected from more than 150 submissions and 36 works developed as part of the season's Monday Night PlayGround staged reading series. The Gala will feature an all-star performance of the six Best of PlayGround winners. The audience will also participate in the selection of the People's Choice Award and recipient of a PlayGround-LA full-length play commission. Tickets are $25-$50 and include a no-host reception with the artists at the Broadwater Plunge immediately following the show. For tickets or more information, visit PlayGround-LA.org/bestof or call 323-992-6766. All proceeds support PlayGround-LA's playwright incubator programs.
Best of PlayGround-LA
The six plays to be presented in this year's Best of PlayGround are:
Not Your White Christmas by Diana Burbano
Towards Tomorrow Island by Daniel Hirsch
The Tale of Baba Yaga Retold by Julianne Jigour
Daniel the Brave by Starina Johnson
The Season of Giving by Jessica June Rowe
The Mission by Mark Sherstinsky
About the Playwrights
Diana Burbano (Not Your White Christmas), a Colombian immigrant, is a playwright, an Equity actor, and a teaching artist at South Coast Repertory and Breath of Fire Latina Theatre Ensemble. Diana's plays focus on female protagonists. Plays include Policarpa, Fabulous Monsters, and Caliban's Island. Linda (in English and in Spanish) has been seen all over the world. She was a writer on "Señor Plummer's Final Fiesta" which is currently wowing audiences in West Hollywood. She is in Center Theatre Group's 2018-19 Writers Workshop cohort and is under commission by Alter Theatre in San Rafael.
Daniel Hirsch (Towards Tomorrow Island) is an LA-based playwright, screenwriter, and journalist who has also called Massachusetts, San Francisco, and Pittsburgh home. His plays have appeared in theaters across the US. He is a two-time recipient of an Alfred P. Sloan Screenwriting Prize and a Society for Professional Journalism Award. He has an MFA in dramatic writing from Carnegie Mellon University.
Julianne Jigour (The Tale of Baba Yaga Retold) is in her fourth season with PlayGround-LA. She has been selected three times for Best of PlayGround-LA, and PlayGround produced her full-length play Bright Shining Sea, a PlayGround/Planet Earth Arts co-commission, last summer in San Francisco. Julianne earned her MFA in dramatic writing from Carnegie Mellon University.
Starina Johnson (Daniel the Brave) is a multidisciplinary theatre artist (performer/playwright/ producer/director). She recently performed in NEO Ensemble Theatre's production of Airport Encounters: Brace for Impact, featuring plays by PlayGround-LA members Scott Mullen, Jessica June Rowe, and Elayne Heilveil.
Jessica June Rowe (The Season of Giving) is a writer, editor, and fifth-year PlayGround-LA playwright. She is Editor-in-Chief of Exposition Review lit journal, and her own work has appeared on the page, stage, and screen. One of her short plays was recently featured in Neo Ensemble Theatre's Airport Encounters, at the Lounge Theatre.
Mark Sherstinsky's (The Mission) PlayGround plays include The Docent (2001 Best of PlayGround) and A David Lynch Family Christmas (2014 Best of PlayGround-LA). His Hell for Dummies was a Strawberry One-Act Festival finalist (NYC, 2006).  Mark's The Valley was a 2018 Inner Voices Social Issues Theatre selection (University of Illinois, Urbana-Champaign).
About PlayGround-LA
The mission of PlayGround-LA is to support the development of significant new local voices for the theatre. PlayGround-LA has developed a unique model for identifying and nurturing the best new writers, helping them to build a significant body of original work, and strongly weaving these artists into the family of local theatre professionals. PlayGround pairs early development playwrights with established, professional actors and directors and fosters the artistic relationships that develop.
Ten days before the designated Monday, October-March, a topic is announced and emerging playwrights in the Greater Los Angeles Area have until 2pm the following Tuesday to submit a short script. A panel of judges selects six winners, whose entries are cast over the weekend and then rehearsed with the area's best professional actors and directors in a whirlwind ninety minutes each before being performed as script-in-hand staged readings. Previous topics include "Justice", "Adapt a Fairy Tale", and "Borders, Islands & Walls" as part of a now-five-year collaboration with Planet Earth Arts on the development of environmental-themed plays.
PlayGround-LA is the first regional expansion of the celebrated Bay Area playwright incubator and theatre community hub, PlayGround(SF). PlayGround was launched in San Francisco in 1994 by co-founders Jim Kleinmann, Brighde Mullins and Denise Shama. In 1996, Kleinmann became PlayGround's first Artistic Director. Since its founding, PlayGround has developed and staged over 850 original ten-minute plays by 220 Bay Area and Los Angeles early-career writers and has commissioned/developed 75 full-length plays by distinguished PlayGround alumni. In the process of staging those works, PlayGround has helped to identify some of the leading emerging writers and, at the same time, has engendered the creation of a true community of theatre artists, bringing together hundreds of local actors, directors and playwrights. For most if not all of the participating writers, PlayGround is the first professional staging their work has received and serves as their introduction into the professional theatre community.
PlayGround's alumni have gone on to win local, national and international honors for their short and full-length work, including recognition at the Humana Festival, Sundance Festival, O'Neill National Playwrights Conference, Bay Area Playwrights Festival, New York International Fringe Festival, and Aurora Theatre Company's Global Age Project, among others. Directors and actors participating in PlayGround are among some of the most distinguished theatre professionals, regularly working on leading local stages.
For more information, visit http://PlayGround-LA.org or follow PlayGround on Facebook (http://facebook.com/PlayGround.LosAngeles) and Twitter (http://twitter.com/PlayGround_LA).